Luke Lewis Scholarship Award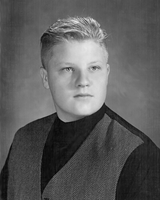 The Luke Lewis Award is a $1000 scholarship award presented to the outstanding Junior Counselor at RYLA.
The award is named after Luke Lewis, a former Rotary District 5490 RYLA Junior Counselor, who, in the spring of 1997, died suddenly from leukemia.
Luke loved RYLA, but Luke also loved life and all of the friends he made. But that was Luke. He took you into his heart and always made you laugh! He loved the Miami Dolphins and his main man was Dan Marino. He loved his sports, football and baseball. He was big but was a teddy bear. He took karate and shot hoops in his front yard. Ever since he could sing he loved Randy Travis, he even won an award for singing his song and made a recording. He loved to draw and was thinking of art school when he graduated. He loved life and people and it showed. Luke was a quiet leader who supported and set the direction for other potential leaders.
CRITERIA for the Award
The Luke Lewis $1000 Award is based on the following criteria:
The candidate must be a current year Junior Counselor
They must exhibit, to the Luke Lewis Scholarship Awards Committee; they are leaders by their actions, words and deeds while serving as a Junior Counselor.
They must go above and beyond in demonstrating their leadership skills. A blend of leader-leadership, maturing, a positive attitude, a willingness to help the little guy and being considerate of others are ideal traits;
How they act and handle themselves when interacting with others
The candidate's ability to integrate their talents into school work, Rotary Programs, home life and community service while keeping a positive attitude.
Previous Winners
Nicole Gregory
2012 - Deer Valley H.S.
Brianna Bradner
2011 - Lake Havasu H.S.
Lauren Dukes
2010 - Lake Havasu H.S.
Alex Mayo
2009 - Kingman High
Michael Kile
2008 - Chino Valley H.S.
Leslie Malay
2007 - Lake Havasu H.S.
Amy Robl
2006 - Chino Valley H.S
Feather McGuire
2005 - Seligman H.S.
Jason Ahumada
2004 - Mingus H.S.
Grace Coe Lechner
2003 - Mingus H.S.
Matt Peterson
2002 - Lake Havasu H.S.
Kellie Kochner
2001 - Lake Havasu H.S.
Mark Petroff
2000 - Centennial H.S.
Suzanne Kurpeski
1999 - Lake Havasu H.S.
Juan Marino
1998 - Dysart H.S.